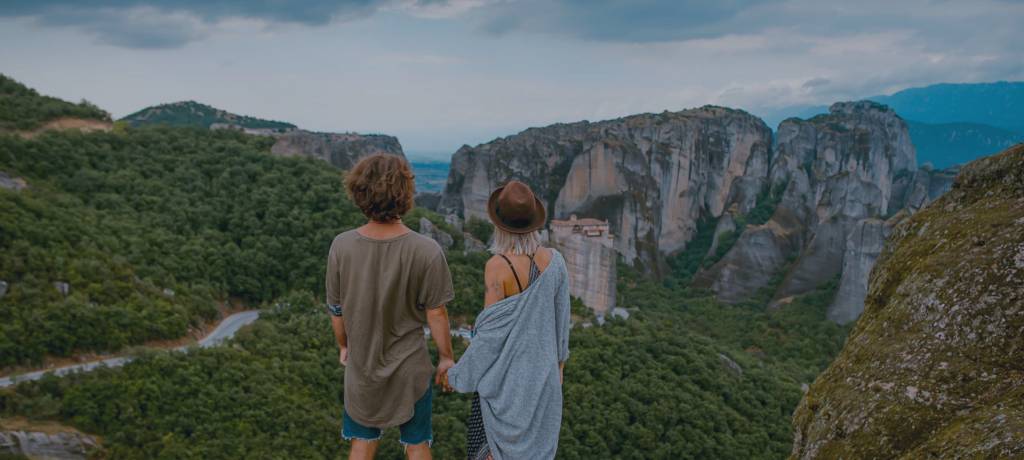 Tours & Trips for Couples
Make your next adventure abroad one that you and your partner never forget. Choose from thousands of tours and trips travelling to incredible destinations around the world and experience the unknown together. You could be exploring vineyards in Italy, snorkelling your way through Thailand's sparkling waters or discovering the ancient wonders of Peru on tours perfect for couples! 
Over 200 Tour Packages For Couples with 114 Reviews
Choose your next destination
Adventure Destinations for Couples
There are countless destinations around the world perfect for couples, including places like India, Thailand, and Morocco. Find the right one for you from the list below.
Europe for Couples
Choose your next romantic holiday in Europe and explore iconic destinations like Spain, Italy, France, and many, many more. 
Budget Trips for Couples
Choose from our list of affordable romantic getaways and find a tour that fits your budget. 
River Cruises For Couples
 Choose from our list of the very best cruise destinations for couples and find a holiday-on-water worthy of your bucket list.
Unique Experiences
If you and yours are hungry for a new adrenaline-fueled adventure abroad, then consider adding these must-have experiences to your very own ultimate couple bucket list. For more inspiration, discover our top couple adventure trips. 
Sailing

There are few better adventures to enjoy as a couple then the kind that takes you seaside. Hop aboard and go sailing through countless European countries, or instead, opt to island-hop in the Southeast. Either way, you'll be able to rest easy knowing that a getaway full of fun, sand, and sparkling waters awaits you on your next sailing trip.

Sailing adventures

Safari

Experience the rolling savannahs, the colorful wildlife, and the impressive natural wonders that spring to life on a safari trip. Enjoy excursions alongside your partner and other like-minded travellers that will be unlike anything you've experienced before. Watch in astonishment as you track wild animals on game drives, sample local cuisine, and enjoy relaxing nights under the stars.

Safari adventures

Hiking and Trekking

Craving nature or a dose of exposure to the elements? In search of a climb that's as rewarding spiritually as it is physical? Then it's high time that you and your partner take on a world-class hike or trek. Choose between jungle treks, coastal walks, and more. Experience the grandeur of Europe's tallest mountains or trek your way up South America's ancient citadels alongside your partner. 

Hiking adventures
Frequently Asked Questions
Will we have alone time?

The amount of free time you have on your tour is largely up to you. No tour activities are mandatory as such, so if you prefer to opt out of an included dinner or walking tour, that choice is yours. Having said this, many tour itineraries factor in some 'free time' to explore on your own, so if you choose to break away on your own during these times, that's fine too.

Is it possible to get a double/queen bed?

If you have bedding preferences, please make this clear at the time of booking. It is, however, important to note that bedding arrangements in double hotel rooms vary around the globe. Many 4-star hotels in Europe have a twin bed standard, where they will either push together or separate the beds, depending on the guest request, so don't be surprised if this is what you encounter while exploring the world.

I am travelling with my partner, can we share a room?

The standard accommodation arrangement for tours is twin share, so in almost every case, you'll be in a private twin or double room by default. The only tours where this may not be an option is if the standard accommodation is in dormitories. If you're interested in a tour with dormitory accommodation, simply ask if a twin share room upgrade is available at an additional cost before booking.

I am travelling with my partner but we are booking separately, is that ok?

Absolutely. Please notify your booking agent of your travel partner's name if you'd like to share a room.

It will be our wedding anniversary while on tour, can we organise something special to celebrate?

While this cannot be guaranteed, it's always helpful for your tour operator to have this information in advance of your departure. At the time of booking, please let our Travel Experts know and we can pass it along to the tour operator. Then it's up to the operator of your tour, or to your tour guide to arrange something should it be possible.

Do many couples travel on tours or is it mainly single travellers?

Touring is equally popular with solo travellers, couples, and friends! The travellers that will join you on your tour are completely dependent on who else books spaces for the same tour and departure date. If you're curious to get an idea of other travellers that will be on your tour, you can always ask!
Bonding activities for couples on tour
Pushing past your limits

Taking on new challenges together is an excellent way to build or strengthen the bond you share. Spend the months or year leading up to your trip training and preparing to take on the Himalayas or Mount Kilimanjaro together on a group tour.

Uncovering new sights

One of the biggest reasons we travel is to see the things we can't in our own backyards. Whether your bucket list includes the Eiffel Tower, the Swiss Alps, or the Serengeti, touring is the perfect way to uncover new sights together. 

Experiencing local life

Leave your old way of life behind and choose a tour that provides unique insights into local culture. Together, and alongside your tour group, you can enjoy everything from unforgettable homestay experiences to cooking classes taught by local residents! 
A TRAVEL MAGAZINE BY TOURRADAR
Contact our Travel Experts
+1 844 311 8331
24/7 Support
Our team of experienced tour specialists have travelled to hundreds of countries around the globe and have decades of first-hand travel experience to share. Contact us now to have all of your tour-related questions answered!