Family Adventures
Who needs a playground when there's a whole world to play in? Embark on a family fun adventure in the Canadian Rockies, see colorful Colombia through the eyes of Mirabelle, or head on a family safari for a Lion King-inspired adventure. With activities that even the fussiest teenager will love, and child-friendly resorts (and spas!), family tours take the stress away so you can spend less time planning and more time discovering a whole new world.
Best Child-Friendly Tours
What to Expect on a Family Adventure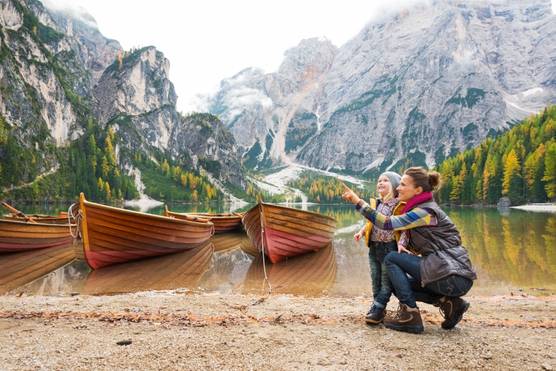 Private & Tailor-Made Family Adventures
Can't find a tour to suit the needs of your family? Perhaps you'd like to add on a destination, change your mode of transportation, or reserve some free time in your itinerary? Simply submit a request for a private adventure tailored to you and your family.

✓ Choose your own dates
✓ Add or remove activities
✓ Customize your itinerary
✓ Upgrade accommodation
✓ Meals for all preferences

Best Family-Friendly Holiday Destinations
Family Tours Around the World
Narrowing down the best holiday destinations for families can be difficult when there's a whole world to play in! Each country offers an array of activities fun for the whole family, from surfing lessons and tree-top adventures in Mexico, to sailing like a pirate along the sparkling shores of the Mediterranean.
Family Adventures for Everyone
We get it, kids are expensive, and searching for the best family travel deals can be difficult. TourRadar makes planning the perfect family vacation on a budget, simple and easy. Most of our family tour packages include comfortable accommodation, kid-approved meals, and plenty of family-friendly activities. Affordable tours can include as little or as much as your budget allows, by saving some dollars with a family road trip, or opting for feature stays with the locals!

View Adventures

If your idea of the perfect family vacation involves kicking back to enjoy some quality family time then look no further. Luxury family adventures on TourRadar feature an all-inclusive itinerary with accommodation at child-friendly resorts, meals to suit even the fussiest critic, and jam-packed full of activities to keep the young and young-at-heart entertained. Perhaps a private stay in a luxury lodge is more your style, or a trip to a private game reserve in Africa for an up-close encounter with the big cats!

View Adventures
Top Tours for Teenagers
The boredom buster!

Okay, so this may not be the actual name of the tour, but it definitely rings true! This action-packed adventure in Sicily lies in the heart of the Mediterranean, making a summer escape here a teenage dream. With a day to let loose at an award-winning water park, snorkeling and sea kayaking on crystal-clear waters and plenty of pasta and gnocchi on the menu, it's hard to say no to this family-friendly tour. Traveling in a group of families with kids over 11, there's plenty of fun, friends, and sunshine awaiting you. Oh, and did we mention that you spend the night in a suspended tree tent after a day packed full of tree-top activities! 

Tour: Family Sicily Multi-Activity Adventure
Operator: Explore!

Backyard, but better

Quiz time! What do you get when you let a teenager create their own itinerary on the USA West Coast? I'm not sure either, but something tells me this tour would pretty much hit the nail on the head. Starting in the hyped-up city of Los Angeles, adding on an afternoon in the Californian surf, stopping at the Grand Canyon for your 'been there, done that' moment, and a stop along the Las Vegas strip (family-friendly style of course!) Wait, we're not done yet! Chuck in a day pass to Universal Studios, a sunset pizza dinner, and plenty of time to chill out in Yosemite and you have an action-packed cocktail of family fun! Even if you're from the US, this small group adventure is like exploring your very own backyard, but better!

Tour: Pacific & Parks Family Holiday
Operator: Exodus Travels

Go solo for a cause!

We get it - you might not always want to vacay with the parents around, so for those who prefer to go it alone, we've dug up this hidden gem! Running volunteer programs all over the world, GVI pairs a tropical Thailand escape with the United Nations Development Goals to bring you a tour for a cause. Exclusively for 14-17 year olds, this tour package brings teens from every corner of the globe to volunteer at a sea turtle conservation center, splash around in jungle waterfalls, kayak through mangrove forests, partake in beach cleanups, and visit some of Thailand's most beautiful temples and beaches.

Tour: Thailand Cultural Immersion & Adventure Tour for Teens 
Operator: GVI
Your Family Adventure Questions, Answered
Why should I take my family on an adventure trip?

There are so many fantastic reasons to book an adventure holiday for your family; not only will you make unforgettable memories that will last a lifetime, but this type of trip is also a great way to introduce your kids to new cultures and broaden their horizons.

What types of family-friendly activities can I book?

At TourRadar, you'll find an array of family-friendly trips with itineraries for all ages, interests, and budgets — whether you want to learn to surf, hike through breathtaking national parks, come face-to-face with extraordinary wildlife, or step out of your comfort zone with adrenaline-pumping pursuits, we've got it all! 

How much does a family adventure holiday cost?


The cost of your family adventure vacation will vary depending on several factors, including the type of tour you select, the operator you book with, and the destination you choose to travel to.

What is the minimum age requirement for children?

This will vary widely depending on your chosen tour and destination; however, our range of family tours includes trips for families with children of all ages, from newborns to teens.

What are the best family-friendly tour companies?

Renowned tour operators such as G Adventures and Intrepid Travel offer a range of family-friendly tours specially tailored to groups of young and mature adventurers, but you'll find a whole host of trusted companies to choose from on TourRadar.

What makes a family-friendly tour operator?

Family-friendly tour operators design their trips to suit adventurers of all ages. That means you'll find specially crafted tours featuring expert guides, kid-friendly excursions and activities, and hotels with amenities designed for families (plus free time to bond with your loved ones).
Your Last-Minute Family Packing List
For Babies & Toddlers

Diapers, bottles, baby formula/pump, food pouches, and more importantly, plenty of toys!

For Kids

Toys, coloring books and pencils, child-specific medicines, and some spare clothes just in case.

For Teens

Chargers, headphones, and offline entertainment. It's a good idea to download songs/videos as you might not always have phone service!

For Parents

Adapters, SIM cards, booking confirmations, travel insurance, and a good travel wallet to keep everything organized.
TIPS FOR TRAVELING WITH CHILDREN