Festival & Event Packages
Let your hair down, get out of town and just have fun. When was the last time you could truly say you did that? From the beer-swilling songs of Oktoberfest to the world's biggest street party in Rio, festival travel guarantees good ol' fashioned fun. Art shows transport you into the minds of creative geniuses, cultural celebrations reveal a whole new way of life, and multi-day music festivals let your inner-rockstar dreams come true! Take it from us, there's no better way to carpe diem!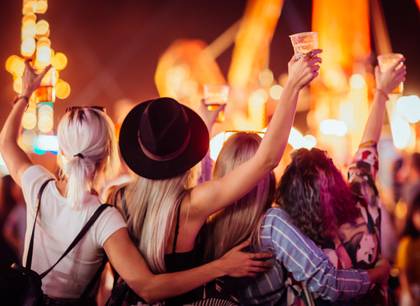 Over 107 Festival Travel Deals With 262 Reviews
What to Expect in a Festivals & Events Package
Cultural celebrations

For centuries, cultures all over the world have held festivals and events to express gratitude, give thanks or celebrate a new beginning. With traditional fashions filling the streets and rejoicing locals around every corner, there's no better way to experience a new way of life.

Share your passion

Whether you're head-banging at your favourite concert, making your multi-coloured mark at a Pride parade, or gaining a deeper understanding of your faith, centring your itinerary around an event can create deep connections and unify like-minded individuals.

Just have fun

Life can get notoriously busy, making it hard to score some dedicated time out. A vacation package featuring a festival or event can be the perfect way to just switch off and have fun! Let your hair down, dance like nobody's watching, or better yet, show off your moves at a carnival!

Feel like a kid again

We're not just talking about the seniors here. Ever since we were kids, we've had big dreams, and whilst we can't turn you into an astronaut, you can dress up like one! Festivals give us a chance to express ourselves and bring our childhood fantasies to life, so what are you waiting for?
Seasonal Holiday Packages
Are you the kind of person that puts your Christmas tree up in November, welcomes in the New Year with celebrations, carves out every pumpkin for your doorstep, or hides chocolate for a one-of-a-kind treasure hunt? Then a dedicated holiday package is for you. Take a look at these seasonal adventures which allow you to see the wonders of the world, but also, makes the most out of the festive seasons!
Don't let the cold weather discourage you -- Winter is the perfect time to explore

Europe

! If your favourite childhood memories take...

See Adventures

Do you love dressing up, carving out pumpkins, and all things spooky? Then a Halloween tour is for you! Explore ghost towns in the

USA

, go...

See Adventures
Epic Events All Year Round
Your Festival & Events Questions, Answered
How do I know a Festival & Events tour is right for me?

If you have a bucket-list event on your mind, are looking for the perfect way to let your hair down, or just celebrating with a group of friends, then a Festival & Events tour is for you. With your accommodation, meals and supplies sorted, an organised adventure takes the stress away so that you can fully enjoy the experience!

How far in advance do I need to book?

Like any trip, the further in advance you book, the better chance you have of securing your spot and a festive tour is no different. Events often have a limited amount of tickets available, so if you have your eye on a specific one it's best to book as early as possible to ensure you don't miss out!

Will my tour be full of young people?

People of all ages love to celebrate! You can expect to see different kinds of people from all over the world. Some Festival & Events trips might see more young people attending, such as the Sziget Festival, compared to that of ANZAC Day events and the Royal Ascot where the average age is more varied. In the end, you should choose an event that seems right for you!

Is admission included?

A specialised Festival & Events tour has an itinerary centred around the grand event itself, so sometimes the ticket is included in your tour cost. However, some festivals offer different perks and levels of access depending on your ticket, therefore it's quite common for your admission to not be included so that you can choose how you celebrate! Reach out to our Travel Experts if you are unsure, we're here 24/7.

Can I combine Adventure Styles?

Yes absolutely! An adventure is what you make of it, so why not add on wine-tasting in France, an island-hopping escape to the Greek Islands, or a wild safari ride in Kenya.

How do I book a Festival & Events trip on TourRadar?

Find your next Festival & Events trip by searching through our tours until you find one that stands out. Simply choose your dates and fill out your details to secure your trip. If you have any questions along the way, our Travel Experts are standing by 24/7!
Current Deals on Festivals & Events
Best Tour Companies for Festivals & Events
Much loved by our past travellers, these adventure operators know how to craft the perfect adventure around festivals and events!
Other Adventure Styles You Might Like
Having a change of heart? Not to worry, we've got plenty of Adventure Styles to suit every taste - from the fussiest connoisseur to the hopeless romantic.
Calling fellow adventurers! Tossing up between a hike of 

Mount Fuji

 to admire sunrise views, a kayaking excursion on pristine 

Lake Louise

, or even a stroll through the vineyard valleys of the 

See More

Don't just see the world, experience it.

Trek

and discover traditions of local hill tribes,

bike

over unforgiving yet breathtaking alpine terrain,

paddle

to island coves only accessible by water,...

See More
TIPS FOR PLANNING YOUR FESTIVALS & EVENTS TRIP