Food & Drink Tours
Warning, mouth-watering guaranteed! Feast your eyes on some of the best foodcations in the world. Whilst the cellar doors of Bordeaux and wood-fire stoves of Naples guarantee no hungry bellies on a European food tour, an Asian adventure satisfies the senses! Indulge in Tokyo's Michelin-star meals, snack on the world's best street food in Bangkok, or make your own momos in Nepal. From fine wine and fondue to laksa and limoncello, foodie tours are undoubtedly the best way to get a taste of local life.
Over 250 Food & Drink Holiday Packages With 619 Reviews
What to Expect on a Foodie Adventure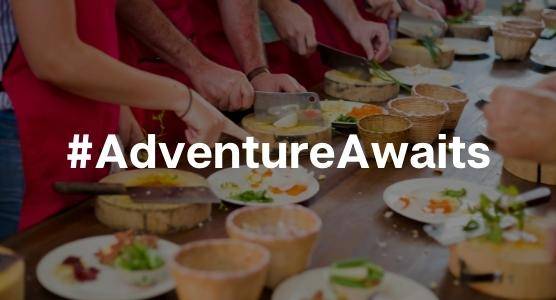 Get a Taste of a Thai Foodie Tour
Thai food has an insatiable reputation around the world, but there's so much more to this much-loved cuisine than pad thai and green curry. If you want to sample some of the country's tastiest and most traditional dishes, be sure to include some culinary-focused activities on your Thailand adventure! This could mean slurping noodles alongside locals at
Chiang Mai's
sprawling night bazaar or joining a street food tour in
Bangkok
.
Eating, shopping, and haggling at markets is an integral part of
Thai culture
, and no matter where you choose to travel in the country, this is one activity you simply can't miss. Be sure to visit the likes of Maeklong Railway Market and Tha Kha Floating Market for a completely unique and unforgettable dining experience, or try your hand at whipping up everything from massaman curry to mango sticky rice with a Thai cooking class.  
View Thai Food & Drink Tours
Most Popular Foodie Destinations
Best Food & Drink Experiences
With many gastronomic experiences all over the world, it's hard to narrow down where to go and what to taste. Our Travel Experts have hand-picked the top foodie experiences you must add to your itinerary - from bite-sized wonders to patisserie platters!

Food & Drink Itineraries for Everyone
Don't let dietary restrictions stop you from tasting the flavors of the world! From baba ganoush to bruschetta, the world's culinary delights are simply irresistible and are hard to pass if you have certain dietary requirements. Most of
our tour operators will cater to vegan, vegetarian, halal, kosher, or Jain options upon request
, and our Food & Drink adventures are no different!
Simply find a tour that has you dying to sink your teeth into, then send our Travel Experts a message, and we'll make sure you don't go hungry on tour! To help plan the perfect trip around your dietary requirements, check out our guide for
vegan travelers
and
vegetarians
.
Feast Your Eyes on These FAQs
How do I know a Food & Drink tour is right for me?

If your favorite thing about traveling is trying different foods, meeting people from all over the world, and trying something new, then a Food & Drink adventure is for you. With a cocktail of gastronomical goodies, cooking classes, and authentic aromas, our Food & Drink tours create a package that is guaranteed to satisfy the senses!

Do you have wine tasting tours?

Yes, we've got the perfect blend of wine-tasting tours from all over the world - from France to South Africa! Some Food & Drink tours include wine or beer tasting, so be sure to check your itinerary for details. If not, then add on a wine-tasting trip to tantalize your tastebuds!

What if I don't like the food on tour?

Most travelers go on Food & Drink tours to taste something new or learn how their favorite dish is made. We don't expect you to love everything you taste (although we try!), so most of the time, there are always alternatives or bland options available. Simply let your tour guide know, and they'll make sure you don't go hungry!

Are meals included on a Food & Drink tour?

In general, on a Food & Drink adventure most meals and tastings are included in the tour cost. Be sure to double-check your tour details or contact our Travel Experts just to be sure!

Can I combine Adventure Styles?

Yes absolutely! An adventure is what you make of it, so why not add on a river cruise in France, an island-hopping escape to the Greek Islands, or a wild safari ride in Kenya.

How do I book a Food & Drink tour on TourRadar?

Find your next Food & Drink adventure by searching through our tours until you find one that stands out. Simply choose your dates and fill out your details to secure your trip. If you have any questions along the way, our Travel Experts are standing by 24/7!
Current Deals on Food & Drink Adventures
Best Tour Companies for Foodie Adventures

Much loved by our past travelers, these tour operators know how to tantalize your tastebuds on a Food & Drink tour!
Other Adventure Styles You Might Like
Having a change of heart? Not to worry, we've got plenty of Adventure Styles to suit every taste - from the fussiest connoisseur to the hopeless romantic.
Calling fellow adventurers! Tossing up between a hike of 

Mount Fuji

 to admire sunrise views, a kayaking excursion on pristine 

Lake Louise

, or even a stroll through the vineyard valleys of the 

See More

Travel with ultimate luxury and class, no matter your budget on a river cruise tour. Indulge on your suite balcony with the finest Douro Valley

wines

, or dance your way through the rhythmic cities...

See More

Unearth your world. Get lost in the intricate details of the

Mona Lisa

, sleep under impossibly star-filled skies in a

bedouin tent

, or listen to tales passed down by generations with cultural...

See More
FOOD & DRINK TRAVEL INSPIRATION HAND-PICKED BY OUR TRAVEL EXPERTS