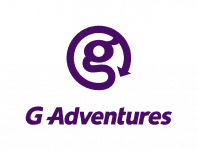 Number of tours

534
Age Range

12-90
Number of reviews

6,895
Rating

4.6

/5
Response rate

76%
Response time

3 hours
Judy

Written on March 24th, 2023

GAdventures tour was well organized, covered lots of diverse locations and variety in program/authentic experiences, and educational info; provided enough free …

Read more

Written on March 23rd, 2023

We took the 8 day Morocco Kasbahs & Desert tour. It was a very fast paced tour with local guides at each of the different excursions. Our guide Latifa was excel…

Read more

Lee

Written on March 23rd, 2023

It was a Very good trip.

Written on March 22nd, 2023

Die Tour selber ist wirklich gut, aber eben kurz und kürzer als angepriesen- 3,5 Tage statt 6. Den ersten Tag schon als Touranfang anzupreisen finde ich fragwür…

Read more

Written on March 21st, 2023

This trip combines 2 memory filled experiences into a perfectly balanced itinerary. G Adventures clearly cares about their staff, their community impact, and m…

Read more

Written on March 21st, 2023

Our guide, Ingrid, was fantastic. Kind, helpful, attentive to each person's specific needs. She made sure everyone was included at all times, even the quiet peo…

Read more

Written on March 20th, 2023

Although I'm rating it 5 stars this trip isn't perfect. Things I didn't like: about 30% of the trip you spend on the road and at times it's just dreadful, esp…

Read more

Hong

Written on March 20th, 2023

guide was good. Some hotels could be better

Written on March 19th, 2023

Excellent tour, very professional and the guide was great

Written on March 19th, 2023

The tour guide, Kumiko, was fantastic — patient, friendly, informative and always helpful. Accommodation was OK to good. The overall schedule was well paced.
G Adventures Videos
Why G Adventures
Life Changing Travel Experiences
G Adventures aims to change peoples lives - it's at the core of what they do, and all their trips are based around this idea. They are an award winning adventure operator, and have shown time and time again why their travelers love them!

Chief Experience Officers
Their staff and the experiences they offer, are all aimed to allow the travelers who travel with G Adventures, an opportunity to see and experience things that will change their lives. Always changing and adapting to the world around them, G Adventures now have CEOs (Chief Experience Officers), Staff, partners and thousands of travellers who have been there before, so that when you book you are getting the most authentic and unforgettable experience possible.

Sustainable Travel and Guaranteed Departures
G Adventures is proud to promote the sustainability of their adventures, and also offer 100% Guaranteed Departures on all tours. This means that if you book your tour, it is guaranteed to depart, with no minimum number of travelers.
G Adventures Benefits
Like Minded Groups
G Adventures offers its adventures to people from all over the world, allowing you to travel with a variety of people who have a world of different experiences, backgrounds, perspectives and stories to tell. Together you can seek out new experiences, make lifelong friendships, and see new places, all with other like-minded travelers.

Solo Travelers Welcome!
If you're travelling solo, you'll fit right in, as on average, about half the people on a G Adventures tour are also solo travelers. Age and travel experience are not important, because in your G Adventures group you will be among good company. As well as the other group members, your group will have its own Chief Experience Officer (CEO). These experts will make sure your trip is full of local insight, great experiences, and they will do everything they can to enrich your travels.

Keep Costs Down
Even if you are travelling solo, G Adventures will help keep costs down by partnering you up with a same-sex roommate. This way you ensure you are paying the same as everyone else. If you would like to have a room to yourself, that's also fine - G Adventures can arrange this at an extra cost.

Freedom To Explore
G Adventures knows that when travelling, a sense of Freedom is important. They make sure that all the important plans are in place to give your trip structure and direction, but allowing you the freedom to do as you wish while on your travels.
Hygiene Measures
Travel With Confidence
When you're ready to travel again, we're here to support you. Your safety, as well as the safety of our employees and partners, has always been our top priority, which is why new physical distancing and cleaning measures have been put in place on all of our adventures. Our new Travel with Confidence policy features new health and safety procedures from the moment you arrive to the moment you leave, without taking away from having the time of your life. The policy will evolve as time goes on and as we continue to monitor local public health recommendations, but what won't change is our commitment to keeping you safe as you explore our big, beautiful world.

G Adventures has received the World Travel and Tourism Council's Safe Travels stamp, which provides travellers with assurance that we have implemented health and hygiene protocols that are aligned with WTTC's Safe Travels Protocols

As a major contributing partner in the creation of these recommendations, G Adventures is proud to be implementing ATTA's COVID-19 Health & Safety Guidelines , developed in collaboration with Cleveland Clinic, across all our tours.

Pre Tour Screening
Before joining one of our adventures, all travellers must complete the pre-tour Self-Screening COVID-19 Questionnaire, which ensures you're feeling healthy to travel. We also encourage all travellers to take a COVID-19 test 72 hours prior to travel, even if one is not required. If you test positive within 21 days of departure, flexible rebooking terms will be made available so you can change to a future departure.

Smaller Groups
Our groups have always been small. This offers security, access, camaraderie, and a connection with your destination you won't get by travelling on bus tours or on your own. Our average group size is 12, ensuring our travellers can engage with each other without being squeezed together like sardines — and that was before physical distancing became a reality. Plus, if you have 8 or more friends you'd like to adventure with, you can reserve the entire trip!

My Own Room
If you're joining one of our small group tours on your own, good on ya! If you are a solo traveller sharing a room with someone, we will do our best to ensure they will be your roommate for the entire journey to support distancing efforts. We have My Own Rooms available as an extra option for tours (pending availability), and we'll be offering more of these at more affordable prices to make it even easier to have a bit more space.

Our Chief Experience Officers
Our CEOs are responsible for ensuring you have the time of your life while keeping you as safe as possible. Here's how they're ready to do that:
They're trained in First Aid, CPR, and other safety protocols
They're supported 24/7 by the field staff in our offices around the world who are well-equipped to handle emergencies
They can help you find local clinics if you're feeling sick
They'll receive new training to ensure they are up to date on all health and safety policies during these evolving times
They have extensive local knowledge to proactively help you navigate wherever you're travelling
Their local knowledge allows for greater flexibility when it comes to knowing the best time to visit certain highlights to avoid crowds whenever possible and suggesting the restaurants with the strictest hygiene practices or those where you can reserve your own table or room in advance
They'll wear face masks when necessary based on local guidelines and recommendations


You & Your Fellow Travellers
Our travellers' safety and wellbeing is our biggest concern. If you're not feeling well before your departure, we have a Book with Confidence policy that provides you with flexibility and freedom to delay leaving until you're back to 100% healthy (terms & conditions apply). If you have a fever or any other symptoms on tour, you may be required to have a doctor clear you before rejoining us. All travellers are requested to bring face coverings, whether they're buffs, face masks or bandanas (extra style points encouraged). We'll make every effort to have hand sanitizer available, but we recommend bringing your own.

Planes, Trains, Automobiles & More
Small private transport vehicles:
Every surface in our well-kept fleet of private vehicles will get at least one daily deep cleaning
Each traveller will have a daily assigned seat
Hand-sanitizer will be required every time you board the vehicle
Facial coverings will be recommended while on-board
Our boats:
Every surface will get at least one daily deep cleaning
High-traffic areas will receive more frequent cleaning
Hand-sanitizer or hand washing will be required every time you board the boat, as well as before and after meals
To support physical distancing, meals may have assigned seating and there will be assigned slots for activities and rooming
Facial coverings will be recommended and welcomed on-board
Your crew is trained in health and safety measures (including food handling) and all cooking staff will follow up-to-date advice from health authorities
Local transportation:
Use of local transportation will be limited wherever possible. Please reference the Trip Details for each individual tour for specifics
If local transportation is used, precautions will be followed in adherence to local health and safety regulations to keep our travellers safe and sound.


Where You'll Be Staying Safe
We've always carefully selected our accommodation partners for their high standards and local roots. Travelling in small groups means that we stay at smaller hotels too, with fewer guests — which means less daily contact with others outside your group in public spaces. Now we are working with our accommodation partners to optimize their health, safety and cleanliness procedures, as well as creating additional measures for physical distancing. Here are some of the things we're working on to help keep you safe:
Daily deep cleaning and disinfecting of all surface areas inside your room with extra cleaning on light switches, door handles, TV remotes, and thermostats
No hotel staff will enter your room after it has been cleaned
Increased frequency of cleaning and disinfecting of all public restrooms and all surfaces in public areas. This might include the closure of public spaces such as gyms, bars, restaurants, and meeting rooms for periods throughout the day
Wherever possible, our groups will stay on the lower floors to limit elevator use
Hotels will implement social distancing protocols in line with local regulations
This is just the beginning of our commitments to keeping you sleeping safe and sound. We will continue to evolve and roll-out these and additional policies as needed.

A Good Safe Place to Eat
We have always carefully selected our food service partners and worked closely with them to ensure they are meeting health, safety, and cleanliness standards with their facilities, staff training, and food preparation and delivery. Wherever possible, we will reserve separate tables or private rooms at the restaurants we visit, opt for more "al fresco" opportunities when we can (gotta love that fresh air!), and ensure breakfasts can be "grab and go" boxes, while avoiding family style or self-serve buffets for meals. We want you to feel comfortable and safe as you savour every last bite.

Activities
You've always had freedom and flexibility to do your own thing on our adventures with optional activities and experiences. Now, you'll still have those options with added measures to keep you healthy and safe. All equipment for activities on tour, including hiking poles, camping supplies, life jackets, snorkels, etc., will be cleaned thoroughly at least once a day and disinfected between use. When travellers are responsible for putting up their own tents on camping itineraries, you will be given the supplies required to disinfect your gear. We will also do our best to make activities and highlights stops happen during non-peak hours, so you can have fun and feel safe no matter what you're doing.
G Adventures Destinations
Questions & Answers
Is it possible to have my own room?

Please contact us for details on accommodation options/ upgrades and we'll be happy to assist you, including arranging your own room (if available).

What are the best destinations for solo travellers?

There are so many great destinations to choose from! Try thinking about what activities you enjoy doing and choose from our 'Adventure styles' at the top of the page for some good inspiration.

What's the age range of a group trip?

Travellers in their early-20s to those aged 60 and over join G Adventures trips. Tours are sorted into different Adventure Styles, which guarantees that you'll be travelling with people who share the same interests you do.

What happens in the evenings?

Group meals are organized by the Chief Experience Officer in most evenings and you can choose to dine with the group or head off and do your own thing. You can choose whether you want to spend time with the group or go it alone.

Are solo travellers mainly women or men?

G Adventures' tours have an average of roughly 60:40 female-to-male.

How do I confirm after "Holding an Option"?

Simply follow the link in your email to your booking enquiry page and select the "Book Now" button. This will take you to a payment page which will enable you to enter your details and confirm your tour option held.

Can I cancel my G Adventures booking?

It is possible to cancel a booking, however G Adventures standard terms and condtions will apply. Please contact us for more infomation.

Is it possible to pay in full right away?

If your tour is departing within 60 days, then you will need to pay in full to secure your booking, otherwise only a deposit is needed. It is not possible to pay in full more than 60 days in advance.

How are travel documents sent?

After payment is received a receipt will be sent directly by email and the final tour documentation will be emailed out approximately 4-6 weeks prior to departure.

Is it possible to get the documents mailed out to me?

All documents are electronically sent directly by email, for sustainability and environmental reasons.

Is insurance needed?

It is required to have medical travel insurance on all the tours which includes at least USD$200,000 worth of emergency evacuation and repatriation coverage. On Day 1 your guide / G Adventures representative will ask you for proof of coverage.

Are your tours guaranteed to run?

All of G Adventures tour departures are guaranteed to run.

Is it possible to book and confirm without holding an option?

Yes, it is. All you will need to do is choose your tour and click the "Book Now" button. You can then select your preferrred date and enter in your details to submit a booking request.

How do I "Hold an Option"?

Either get in contact with us, or go to the relavant tour page and select the 'hold my seat for 48 hours' option.

What does "Holding an Option" mean?

It gives you time to research flights, gather passport information, confirm arrangements with travel partners, etc. Holding an option is reserving a space without payment for up to 48 hours. which means your reserved spot(s) will be released unless you confirm your booking within 48 hours.

Why is it not possible to add extra services to a file within 10 days of departure?

Because of the locations that many of our adventures go, it can be quite difficult to organise this on such short notice. G Adventure recommends adding services to your booking at least 30 days prior to your departure date as amendment fees will apply between 30 - 10 days.

Is tipping included and if not, how much should I budget?

Tips are not included in the tour price and it is entirely at your discretion.

Is it possible to book extra nights of hotel accommodation before or after my tour?

Yes, in most cases it is possible to arrange additional accommodation at the starting or ending hotels, excluding European tours. Please contact us for more details and we definitely help you out.

How is G Adventures able to offer such competitive prices?

G Adventure spends your money providing an authentic experience, instead of on lavish hotels and expensive western-style meals and pass these savings on to you with their prices. While the adventures don't include absoloutely everything, you will get to see the major highlights and attractions of the destination you are visiting.

Who are my travel companions?

G Adventures cannot provide you with advance details on your traveling companions for privacy reasons. Their adventures are conducted in English and so they attract many travellers from North America, UK, Australia, New Zealand and Europe. You can also download G Adventures free App to meet other travellers and get chatting before you set off on your adventure.

What type of ground transportation is used on the tours?

In most cases G Adventures use public transportation. However, some of their adventures, including their "Superior", "Comfort Class" and most adventures in Africa, use private transportation.

Are airport transfers included?

It is recommended that you arrange a taxi on arrival as most of G Adventures tours do not include airport transfers. Please get in touch to enquire about the additional costs for pre-arranged airport transfers.

Can I deviate from the tour?

It's extremely difficult if not impossible to join a tour after it has begun. It is possible to leave a tour early however you will be responsible for your own arrangements from the moment you decide to leave the tour. You would also be responsible for all costs associated with joining a tour late or leaving one early. If you feel this may be necessary please contact us and we can advise on the best way to do this.

Are there listings of hotels where we can stay at?

G Adventure uses a variety of hotels en-route and a complete list of hotels won't be provided until the star of the tour. Starting and ending hotels are listed on your travel voucher and in the Trip Details document.

Is there any single supplement for solo traveller?

Most of G Adventures' tour accommodation is on a twin share basis and, if you are travelling on your own, you will be sharing a room with another traveller of the same sex. The majority of their trips do not have a compulsory single supplement.

What are the age restrictions on the adventures?

There are no upper age limits for most of G Adventures tours (although Yolo tours are restricted exclusively to 18-to-39-year-olds) but you must be at least 18 years old to travel independently. Travellers with pre-existing medical conditions are required to complete a medical questionnaire. G Adventures' Family Adventures are open to families with children aged between 5 and 17 years of age. Their standard (non-family) adventures are open to children aged 12 years or older when accompanied by a parent (max. two children per adult). The two-children-per-adult restriction does not apply to their Family Adventures.

What clothing should I bring for the tour?

It is recommended to pack as light as possible however the specific requirements of the tour will vary depending on when and where you are travelling.

What are the recommended vaccinations for the tour?

The only one qualified to provide you with this advice is your family physician or a specialist from a Travel Health clinic. It is important to have the most accurate and up-to-date travel health information for the region you will be visiting.

Can G Adventures help arrange my travel visas?

Travel visa requirements vary depending on your nationality and your destination.Please contact your nearest embassy or consulate for more details on visa requirements and visa processing services.

What is the maximum number of people who can join a tour?

You can expect up to 15 travelers on a given tour but the average group size is 10.

What is the recommended type of luggage to bring?

You will normally have to carry your own luggage on and off buses and trains and up and down hotel staircases so G Adventures strongly recommends bringing a backpack or duffel bag, as suitcases can be inconvenient, cumbersome and difficult to store in buses, under seats, etc.

Is the international airfare included on the tour?

International airfare is not included in the price, unless it is specifically mentioned as part of the tour itinerary.

Are the G Adventures tours featured and bookable in the TourRadar website the same as the G Adventures tours featured and bookable on G Adventures website?

Yes! Any G Adventures tour that you book from TourRadar.com is exactly the same as the tour you would book on G Adventures website. However by booking with TourRadar you get additional benefits.
Contact our Travel Experts
+1 844 311 8331
24/7 Support
Our team of experienced Travel Experts have ventured to hundreds of countries around the globe and have decades of first-hand travel experience to share. Contact us now to have all of your tour-related questions answered!