Cultural Tours & Trips
Every culture lover knows what comes to mind when they want to explore, whether it's catching the enchanting gaze of the Mona Lisa, listening to the tales passed down through generations by a fire in front of a Bedouin tent, or exploring Peru; from the vivid coast of Lima to the ancient Incan ruins in the misty and mystical mountain plateaus of the Andes.

This is your path to discover cultural adventures - from a Japanese ryokan to the African savannah - where tradition, history, nature, and local cuisine unite for an unforgettable journey.
Over 250 Cultural Holiday Packages With 55,808 Reviews
What to Expect on a Cultural Adventure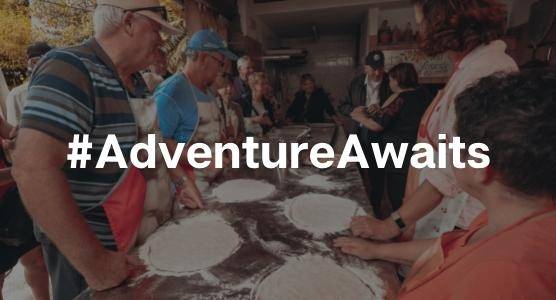 Come With Us on an Italian Adventure
Whether you're a world traveller or you've never left your hometown, Italy is at the top of everyone's bucket list. If you've always dreamt of immersing yourself in the history, culture, and food of this amazing country, you're in luck!
Let TourRadar take you through some of the best destinations - and a couple of hidden gems - that
Bella Italia
has to offer! Italy's famous vineyards are a must-visit on every Italian itinerary, and
Tuscany
has some of the best ones around - not to mention some of the most incredible views you'll ever see! Treat yourself to the region's
world-famous wine
and get ready for a cultural experience unlike any other. Whether you're looking for inspiration, getting excited about an upcoming trip, or just daydreaming about pasta and pizza, we hope this video has you ready to experience
la dolce vita.
 
View Italy Cultural Tours
Most Popular Destinations for a Cultural Tour
Cultural Adventures Around the World
Best Cultural Experiences
With many cultural experiences all over the world, it's hard to narrow down where to go and what to do. Our Travel Experts have hand-picked the top cultural experiences you must add to your itinerary - there's no better way to delve into traditions, history and culture!
Cultural Itineraries for Everyone
Relaxing

Designed for those who love to take it slow, offering a true escape from the day-to-day. Relaxing cultural tours are ideal for seniors or those who need assistance - featuring nights on luxury cruise ships, ways to unwind at relaxing beach resorts, or plenty of free time so that you can explore on your own terms, at your own pace.

See Relaxing Cultural Adventures

Easy

Perfect for all ages, easy cultural tours feature lots of sightseeing! You can expect walking tours to discover hidden gems of metropolitan cities, camping trips that require minimal effort, or journeys that feature activities suitable for all fitness levels. We've taken care of the nitty-gritty so that you can enjoy adventures with ease.

See Easy Cultural Adventures

Moderate

Embrace the full cultural experience with a moderate adventure! Featuring tribal visits and local living, you can expect to hike up an Andean mountain, ride a camel in the Sahara or head out on a Masai Mara safari. For those not afraid to get their hands dirty, moderate tours offer a deep dive into culture!

See Moderate Cultural Adventures
How to Get Your Cultural Fix
How do I know a Cultural tour is right for me?

If your favourite thing about travelling is trying different foods, meeting people from all over the world and trying something new, then a Cultural adventure is for you. With a perfect blend of historical insights, local living, religious experiences, and sightseeing, our Cultural tours create a package anyone will love!

Are Cultural tours fast-paced?

The best thing about booking your Cultural adventure on TourRadar is that you can decide your own pace - from relaxing escapes to heart-pumping expeditions! Simply filter down your Cultural adventure until you find one that ticks all of the boxes, if you're still not sure then reach out to us, we'd be happy to help!

What's the difference between a Cultural and Explorer tour?

We've curated Adventure Styles to suit everyone's taste, so if you're looking to delve into different cultures, then a Cultural tour is ideal for you! Our Explorer tours are designed for those who love a bit of everything - think of a Peru trip that visits Andean hill tribes, but also includes a hike to Machu Picchu, an Amazonian boat cruise and a beach escape amongst the Galapagos Islands - yes please!

Can I combine Adventure Styles?

Yes absolutely! An adventure is what you make of it, so why not add on wine-tasting in France, an island-hopping escape to the Greek Islands, or a wild safari ride in Kenya.

How do I book a Cultural tour on TourRadar?

Find your next cultural adventure by searching through our tours until you find one that stands out. Simply choose your dates and fill out your details to secure your trip. If you have any questions along the way, our Travel Experts are standing by 24/7!
Current Deals on Cultural Tours
Best Tour Companies for Cultural Adventures

Much loved by our past travellers, these tour operators know how to craft the perfect cultural adventure!
Other Adventure Styles You Might Like
Having a change of heart? Not to worry, we've got plenty of Adventure Styles to suit every taste - from the fussiest connoisseur to the hopeless romantic.
Calling fellow adventurers! Tossing up between a hike of 

Mount Fuji

 to admire sunrise views, a kayaking excursion on pristine 

Lake Louise

, or even a stroll through the vineyard valleys of the 

See More

Warning, mouth-watering guaranteed! Feast your eyes on some of the best foodcations in the world. Whilst the cellar doors of

Bordeaux

and wood-fire stoves of

Naples

guarantee no hungry bellies on...

See More
CULTURAL TRAVEL INSPIRATION HAND-PICKED BY OUR TRAVEL EXPERTS