Polar Cruises & Tours
Think you've seen all that can be seen on tour? Think again! Polar cruising is a way to explore where few people have gone before. Want to go penguin watching in Antarctica? How about heading to the Arctic to see polar bears in Svalbard? Or experiencing the natural beauty of Canada, Finland or Alaska? Whether it's the North Pole or South, polar cruising is the adventure of a lifetime!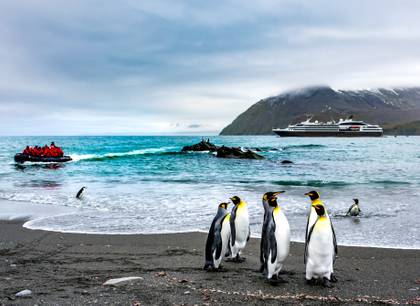 Explore the North & South Pole
Visiting the Arctic or Antarctic is one adventure lucky travellers will never forget. Whether you decide to go on an Arctic tour and hike across glaciers, or an Arctic cruise, where you'll be able to sail amongst whales and narwhals, this exhilarating journey will be one you'll talk about for years to come. Or maybe you're dreaming of the opposite end of the world? Visiting the South Pole means frosty temperatures, encounters with wildlife such as penguins, and one exhilarating adventure after another!
Popular Polar Cruises & Tours
Where to Visit on an Antarctic Cruise
Just because Antarctica has a much smaller population than the Arctic, doesn't mean there aren't several beautiful places to visit on a polar cruise! Let us help you decide where to go in Antarctica.
The Falkland Islands are a series of islands in the South Atlantic Ocean, home to a few thousand British citizens, several sheep farms, and some of the most beautiful nature in the world. While these islands are incredibly remote, they have the feel of a small town in England, and travellers are often struck by how welcoming the locals are.

See Adventures

South Georgia Island is another British Overseas Territory in the South Atlantic Ocean, but, as opposed to the Falkland Islands, you won't find people living here. Instead, you'll find countless species of bird, whale, and seal - a perfect place to stop and explore on your way to Antarctica!

See Adventures

The Antarctic Peninsula, the northernmost point in Antarctica, is often the first and only stop on a polar cruise to the Antarctic. Never fear, however: everything travellers want to see and experience in Antarctica, they'll find here! The peninsula is perfect for whale watching, zodiac cruising, kayaking, hiking, and wildlife spotting. 

See Adventures
Top Destinations in the Arctic Circle
Does the phrase "Arctic Circle" make you think of barren landscapes and no civilization? Think again! There are plenty of places to visit in the Arctic Circle, each with its own unique draws.
Things to Do On a Polar Expedition
Watch wildlife

If you're looking to see animals you can't see anywhere else in the world, a polar cruise is the perfect adventure for you. Want penguins to stroll right up to you? Head to Antarctica, where these famous birds have no fear of visitors. Is it your dream to watch a polar bear travel with her cubs? The Arctic Circle is the place for you.

Camp

While it may seem extreme, you can camp in both the Arctic and the Antarctic! There's nothing more adventurous than spending a night out under the stars, and doing that while bundled up in special equipment in the Arctic or Antarctic is a truly unforgettable experience. Remember that camping expeditions are always subject to change, for the safety of everyone on your cruise or tour.

Go hiking

One of the best ways to explore a new place is by hiking! There are countless opportunities for this in the Arctic, but slightly fewer in the Antarctic, as special precautions have to be made in order to not disturb the delicate ecosystem. As always, listen to your tour leader for advice on where to go and where not to go!

Photography

You can get some incredible photos on a polar cruise! The harsh white ice makes for the perfect backdrop - consider bringing a coat in a bright colour, such as red, in order to really stand out and make your photos pop.

Zodiac cruising

A Zodiac is a small, motorized inflatable boat used to travel through areas too dangerous or narrow for larger ships. This exhilarating pastime is the perfect way to discover the Arctic or Antarctic, as you'll be able to get up close and personal with the area's natural beauty. Learn more about zodiac cruising.

Kayaking

If Zodiac cruising seems a bit too high-speed for you, kayaking in the Arctic or Antarctic is a truly peaceful, unforgettable experience. Take your time and glide through the pristine water, observing icebergs, glaciers, and even, occasionally, whales!

Skiing

You may be surprised to learn you can cross-country ski in Antarctica, but it's becoming a more common way to see this incredible continent! Several touring companies have begun offering skiing itineraries, meaning you can participate in a safe way that's still rewarding and invigorating.

Listen to lectures

One of the best parts of travelling on a polar cruise is that your ship comes staffed with research scientists and other experts! If one of them puts on a lecture over the duration of your trip, take the time to listen to them. It may not seem like an adventurous way to spend your time, but you'll be amazed at their knowledge, and look at your destination in a whole new light. 

See Northern lights

Seeing the Northern Lights sits high on the top of many bucket lists! If you want to see these magical lights on your polar cruise, the best time to do so is in April or September. If you opt for a polar tour instead of a polar cruise, the lights are also visible from January to March.
Your Polar Tour Questions, Answered
What is 'Fly & Cruise Trip'?

Fly & Cruise tours combine all the comfort and expediency of flying closer to Antarctica, allowing travellers an extended time in Antarctica cruising the gorgeous scenery.

Where do Antarctic cruise leave from?

Embarkation ports vary however, most Antarctic polar cruises depart from Ushuaia, Argentina. Montevideo, Uruguay and Buenos Aires, Argentina are another ports for Antarctica cruise departures.

How much does a polar cruise cost?

This destination is a trip of a lifetime, but it does come at a premium.  Depending on your travel style prices, will range from on average EUR500 per day for budget cruises and tours, to over EUR1000 per day for a luxury expedition cruise experience.

How risky is polar travel?

Weather and ice can cause problems on shore and on the ship. However, Cruise Operators will always prioritize safety for their guests and crew. The ships are designed and built for the polar region, equipped with GPS and other equipment necessary for navigating this region and are manned by a highly experienced crew. Cruises to the polar regions are scheduled during the favourable season (summer) for optimal expedition success.

Do I have to be in good shape for a polar tour?

To enjoy the trip in full you should be in good general health and able to walk reasonable distances, sometimes over uneven terrain and are able to get in and out of a Zodiac with ease. For those who are seeking more adventure, some cruise operators offer one or more activities such as sea kayaking, cross-country skiing, camping, snowshoeing, mountaineering, or diving as options where a higher level of fitness is required. Remember, you are always welcome to stay on board if you prefer.

What is there to do on the polar ship?

There are plenty of activities to choose from while sailing to the polar regions. Depending on the chosen itinerary and cruise operator, you will be able to learn about the history and environment by attending on-board lectures conducted by regional experts. There are other activities, such as board games to play in the lounges and fully-stocked libraries.

What documents must I complete to participate in the expedition?

Forms may differ depending on the tour operator and destination. Generally, you will need to sign a cruise contract, and fill in personal and medical forms. Your tour operator might also ask you for your flight information in order to arrange a pickup. Keep in mind to always check visa requirements prior to your departure.

Can I extend my stay in the disembarkation city?

An extension of stay is usually possible, but it can vary depending on the tour operator. If you wish to have extra time exploring the disembarkation city, contact your tour operator and ask for possible options.

Is there a doctor onboard?

Yes, polar cruises will most likely include a doctor onboard to ensure safety of the passengers. Some ships also have clinics with medical equipment for emergencies.

Are single travellers welcomed?

Yes, many travellers interested in polar regions travel solo. If you are open to sharing a room, choose your preferred cabin size and your tour operator will match you with other solo travellers of the same sex. If you wish to have your own cabin, there might be a single supplement charge, depending on the tour operator.

Are there family polar tours?

Although children are not discouraged from an Antarctic trip, some cruise operators won't take passengers who are under 6 or 12, depending.  Please check with your TourRadar Polar Specialist for cruise operators who offer family expeditions.

How far in advance should I start planning my trip?

We recommend travellers book their tour 12-18 months in advance. Booking in advance allows you to secure your preferred cabin size and choose additional activities you wish to take part in. Depending on the cruise, you might choose to kayak, camp, or hike. Keep in mind that Antarctica is accessible only between late October and late March, with each month having different highlights, so plan in advance to be able to choose your dream cruise.

When and where can I see the Northern Lights?

The Northern Lights can be seen in few countries: Canada, Alaska, Greenland, Iceland, Norway, Finland, Sweden, and Russia. The best time to see the Northern Lights will differ depending on the place you choose, but in general, the best time to see them is between October and March.

Where can I see Polar Bears?

Polar bears live above the Arctic Circle and the best places to spot them are Alaska, Northern Canada, Greenland, Svalbard, and Russia. The best time to watch polar bears will vary depending on the place you choose, and whether you prefer to take a polar cruise or polar tour. Usually, polar cruises operate between June and September.

What type of clothing should I pack?

As the weather can be harsh in polar regions, it's important to be prepared. Make sure your clothes are waterproof, windproof, good quality, and, preferably, thermal. Waterproof pants are a must, and it's also advisable to dress in layers. 

Are expedition jackets provided?

Check with your cruise operator before departing, as many do provide a parka suitable for polar conditions. Most operators also provide rubber boots for those who want to pack lighter.

Should I expect rough seas cruising from South America to Antarctica?

You should expect rough conditions at some point during your cruise. However, depending on the weather conditions, you may experience water as clear and smooth as glass. Take care navigating through the ship, as you could bump into things during rough moments. Always wear rubber-soled shoes to help your grip.

Is there anything I can take to prevent sea sickness?

If you are prone to sea sickness, then you may be sensitive to movement on a ship. Consult your physician before you depart for advice and, if necessary, prescription medication.  Crystalized ginger is often a good home remedy to ease queasiness, which you may find offered in the ship's dining room.

What will the weather be like?

Expect the unexpected! The weather can change in an instant in the polar regions, so take your outer layers and insulating layers ashore with you even though the sun is shining before you set off, by the time you reach the shore it could be snowing with blazing winds!
Book your polar cruise today!
+1 844 311 8331
24/7 Support
Our team of experienced Cruise Consultants have travelled to hundreds of countries around the globe and have decades of first-hand travel experience to share. Contact us now to have all of your tour-related questions answered!
Popular Polar Tour Operators
POLAR TRAVEL INSPIRATION BY TOURRADAR