Sailing Tours & Trips
Hoist the sails, it's time for an adventure on the high seas! Bring your pirate fantasies to life island-hopping through the Caribbean, or with a dreamy island getaway in Greece. Whether you're setting sail on an exclusive private yacht in the Mediterranean or joining a group trip meandering through the wildlife-rich Galapagos Islands - the world truly is your oyster on a sailing adventure!
Over 250 Sailing Tours With 3,561 Reviews
What to Expect on a Sailing Adventure
A VIP experience

Feel like a million bucks (literally!) sailing through the Mediterranean onboard your very own yacht. Stop at the hidden gems of the world that are only accessible by boat. Imagine relaxing on the deck at a picturesque island cove, sailing to a private beach with white sands, and plunging into warm ocean waves without another soul in sight. Pure bliss!

All-in-one adventure

Struggling to choose between a cultural experience and an island-hopping getaway? On a sailing tour, you don't have to choose. Good sailing itineraries master the perfect balance of cultural experiences, delicious delicacies, fun activities and even wildlife encounters, like our gentle giants over on the Galápagos Islands.

New day, new destination

The world truly is your oyster on a sailing holiday! Discover some of the most unspoilt destinations, from Australia's Great Barrier Reef to Africa's Seychelles archipelago. With literally tens of thousands of islands surrounded by remote golden shores, there are very few reasons why you shouldn't go on a sailing adventure.

Just escape.

Do you dream of just getting away, but are not really sure of where to? A sailing holiday serves as the ideal escape from everyday life with the blue skies and refreshing waters crafting a peaceful home-away-from-home. Let the calm sway, lapping waves and sand between your toes serenade you to create that irresistible island paradise you've always dreamt of.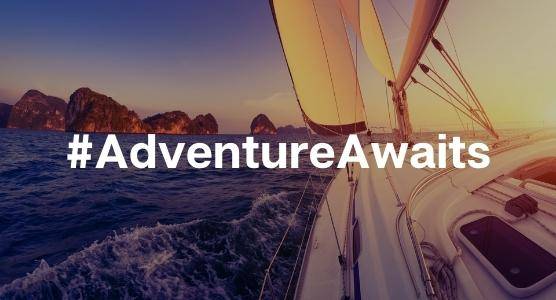 Sail the Croatian Islands with us!
Come along with us to the glimmering Adriatic Coast as we wander through the ancient streets of
Dubrovnik
, sample local wine in Korčula, and more! With its stunning natural setting, breezy islands, and glorious seascapes, Croatia sets the stage for a dreamy
Adriatic
escape of epic proportions.
Croatia is the type of place where you can sunbathe on striking beaches, eat at the finest of restaurants, or party until the sun comes up (or all of the above!). Covering a mix of fan favourites and lesser-explored locales - from
Split
to Makarska, Mljet and Hvar - this sailing trip makes for an Adriatic adventure like no other. If you want to see the best of Croatia (while soaking up as much sun as possible along the way) a sailing trip is the way to go!  
See Croatia Sailing Trips
Ways to Sail
Yacht

Modern, comfortable, and equipped with a range of top-notch amenities - including fully-equipped cabins and sun decks - yachts offer an excellent sailing experience no matter your destination. If you're booking a sailing trip in the Mediterranean, it's likely you'll be sailing on a yacht.

Gulet

Arr me hearties! Bring your pirate fantasies to life onboard this more traditional vessel. Originating in Turkey, gulet boats are wooden sailing boats with two or three masts. Although other countries such as Italy and Croatia use gulets, you'll find them most commonly on sailing trips in Turkey.
Most Popular Destinations for a Sailing Holiday
Sailing Adventures Around the World
Best Sailing Experiences
With many sailing experiences all over the world, it's hard to narrow down where to go and what to do. Our Travel Experts have hand-picked the top sailing experiences you must add to your itinerary.
Your Sailing Questions, Answered
Do I need to know how to sail?

On most of our Sailing adventures, you'll have a skipper at the helm or at least some crew members to show you the ropes, so no sailing experience is required. Some private sailing trips allow you to be the captain as you'll have the entire boat to yourself, so be sure to double-check with your operator if that's something you'd like to do.

Am I required to help out on the boat?

Sailing adventure operators are fully equipped with a highly skilled crew, so there's no need to help out on the boat - unless you want to fine-tune your sailing skills, of course!

What are the cabins like?

This depends on the type of vessel you'll be on, but it's likely that your cabin will be small. Typically, couples get their own room, while solo travellers will have to share a cabin or pay a single supplement for their own room. Most cabins are equipped with ensuite bathrooms, but some vessels may have shared facilities.

How much time is spent off the boat?

Sailing adventures have mastered the balance of on and off-shore experiences. A typical day might look like waking up on board, heading for a morning swim, then making port at a historic town where you'll savour local delicacies and enjoy free time before returning back to your boat for the night. Of course, every sailing itinerary is different but most include excursions to various ports, along with a range of land-based activities.

Can I combine Adventure Styles?

Yes absolutely! An adventure is what you make of it, so why not add on wine-tasting in France, a historical tour to multicultural Turkey, or a wild safari ride in Kenya.

How do I book a Sailing adventure on TourRadar?

Find your next Sailing adventure by searching through our tours until you find one that stands out. Simply choose your dates and fill out your details to secure your trip. If you have any questions along the way, our Travel Experts are standing by 24/7!
Current Deals on Sailing Tours & Trips
Best Tour Companies for Sailing Adventures
Much loved by our past travellers, these adventure operators know how to craft the perfect sailing escapes!
Other Adventure Styles You Might Like
Having a change of heart? Not to worry, we've got plenty of Adventure Styles to suit every taste - from the fussiest connoisseur to the hopeless romantic.
Calling fellow adventurers! Tossing up between a hike of 

Mount Fuji

 to admire sunrise views, a kayaking excursion on pristine 

Lake Louise

, or even a stroll through the vineyard valleys of the 

See Adventures

Travel with ultimate luxury and class, no matter your budget on a river cruise tour. Indulge on your suite balcony with the finest Douro Valley

wines

, or dance your way through the rhythmic cities...

See Adventures

Don't just see the world, experience it.

Trek

and discover traditions of local hill tribes,

bike

over unforgiving yet breathtaking alpine terrain,

paddle

to island coves only accessible by water,...

See Adventures
BEACH TRAVEL INSPIRATION HAND-PICKED BY OUR TRAVEL EXPERTS