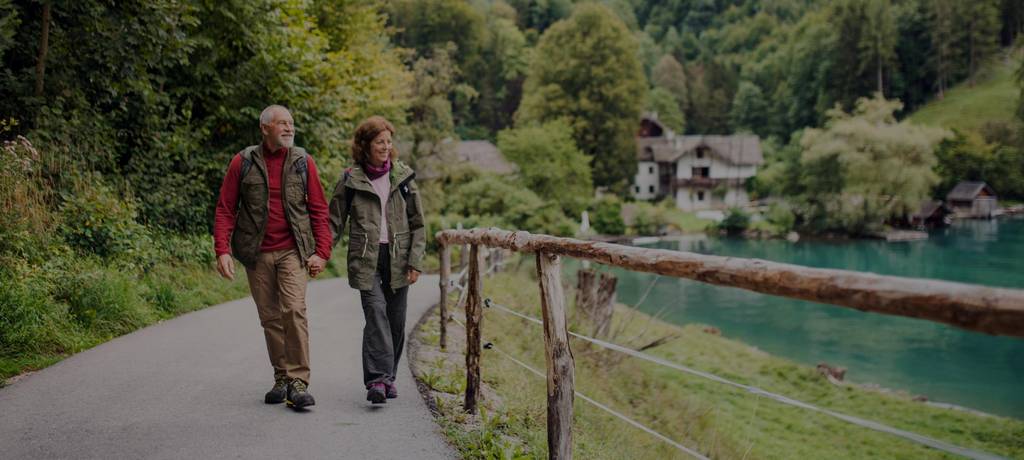 Tours & Trips for Seniors
Who says the adventure has to slow down when you get older? There are plenty of opportunities for adventure travel for seniors! From wandering through museums in Europe to exploring the lush nature of New Zealand and more. Travelling alone? Not a problem! Travel is a great way to meet new people from all walks of life - you can have as much or as little interaction as you'd like. 
Over 250 Senior Tour Packages with 22,221 Reviews
Popular Travel Destinations for Seniors
The first thing you'll need to do when you decide you want to go on an adventure is pick where you'd like to go! There are plenty of incredible places where seniors can have unforgettable experiences. Try wine-tasting amongst Italy's rolling hills, catching a glimpse of the Southern Lights in New Zealand, visiting a bustling market in Thailand, or touring world-famous breweries in Ireland. The possibilities are truly endless - no matter what your destination, you're sure to learn something new, experience a different culture, and altogether have a great experience!
Popular European Tours for Seniors
Europe, a cultural, gastronomical, and architectural capital of the world, is full of new experiences - you'll find a new opportunity around every corner! Imagine yourself walking along the craggy cliffs and stunning natural beauty of Ireland, hunting for Scotland's famous Loch Ness Monster, or relaxing on a gorgeous beach on one of Greece's many islands. No matter what you choose, you're sure to have an incredible time exploring everything Europe has to offer.
Popular River Cruises for Travellers Over 50
River cruises are an ever-popular adventure amongst senior travellers, and it's easy to see why. From the ease of only having to unpack once while visiting multiple countries to the delicious food and friendly atmosphere on board, river cruises for seniors are always a great choice. Some of the most popular destinations include cruises along the Danube, which travels through Budapest, Vienna, Bratislava, and more; the Rhine, flowing from Switzerland through Germany to the Netherlands; the Rhone, which provides beautiful views of Switzerland and southern France; and Paris' famous river, the Seine.
Adventure Styles Perfect for Seniors
Polar Cruises

Embarking on a polar cruise is the ultimate bucket list experience for every adventure-spirited traveller. There is nothing quite like it - the astonishing, majestic landscape is one that not many travellers are fortunate enough to witness in their lifetime. Try to spot 6 different species of penguins in Antarctica or head north and watch polar bears play with their cubs. Regardless of which direction you decide to go in, you are set for the adventure of a lifetime.

Safari

Going on a safari is the ideal way to experience an entirely new world of nature. Try to spot the Big Five and experience camping in some of the world's best national parks. Throughout your journey, you'll have the opportunity to get up close and personal with diverse wildlife, all while taking in views that can only be described as unforgettable. 

Hiking & Trekking

Getting older doesn't mean you have to hang up your trekking poles. There are countless tours and trips that will take you anywhere and everywhere including famous places like Kilimanjaro and Cinque Terre, all at a pace that works for you. Find easier treks for those of you just starting off and more advanced options for adventurers with serious experience under their belts.
Current Deals on Senior Tour Packages
People Ask
Do I need to be physically fit to go on tour?

Certain tours do require a level of fitness to enjoy the itinerary fully, especially if it includes activities such as hiking, trekking and cycling etc. Some tours may require travellers to be able to walk long distances or upstairs without assistance. If you are unsure if the tour you are considering is suitable, please contact our team of Travel Experts in advance of booking.

I am a solo traveller, will I need to pay a single supplement?

If you are a solo traveller and would prefer the privacy of your own room for the duration of your tour, you may be required to pay a single supplement. However, in most cases, tour operators offer solo travellers the opportunity to share a room with another fellow traveller of the same gender in order to avoid additional costs. Read more on no single supplement holidays.

I am over 75 years old, can I still join a tour?

Some tour operators have strict age restrictions as they cater their tours for a specific demographic needs. However, the majority of the tour operators do not have any age restrictions and you will be able to join them as long as you are young at heart and have a passion for new experiences.

Are there bathrooms on the coach bus?

When travelling long distances on a coach, a bathroom is usually made available. Tour operators will always make frequent stops throughout the journey to enjoy the surroundings or for grabbing a quick bite. 

Am I able to travel with a wheelchair?

The ability to travel with a wheelchair can vary depending on the tour or cruise you wish to book. Tour operators may not be able to accommodate the dimensions of the wheelchair and if it can be folded for storage. If you do require a wheelchair or have limited mobility, please inform our Travel Experts prior to booking so they can check if the tour operator will be able to accommodate your requirements.

Can I take my medication with me?

In most cases, it's not a problem to take your medication with you on tour depending on their contents and where you will be travelling. However, please let our team of Travel Experts know of any pre-existing medical conditions you have so that they can advise the tour operator on your behalf.

Can I reserve a specific seat on the coach?

As every traveller deserves the opportunity to experience the beautiful scenery from different views throughout the tour, it is typically not possible to reserve seats. However, if you require a specific seat for a medical condition it is important to speak to your tour guide on the first day of your tour so that they are aware and can do their best to accommodate you.

I have a sleep apnea machine, can I bring this with me?

Many people travel with a sleep apnea machine. However, as the machines do require power and can vary in size it is recommended to contact our team of Travel Experts to find out if the tour you have selected is suitable for your requirements.
Book your adventure today!
+1 844 311 8331
24/7 Support
Our team of experienced tour specialists have travelled to hundreds of countries around the globe and have decades of first-hand travel experience to share. Contact us now to have all of your tour-related questions answered!
INSPIRATION HAND-PICKED BY OUR TRAVEL EXPERTS