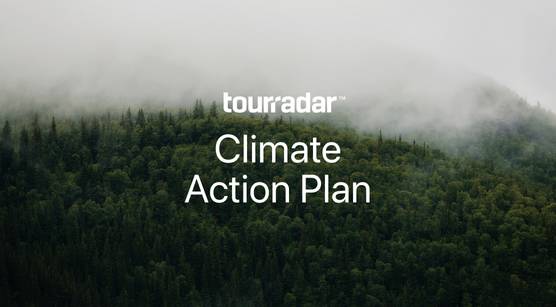 TourRadar Releases Climate Action Plan
TourRadar Releases Climate Action Plan; Includes Impact Measurement Tool for Multi-day Adventure Operators and Sets a Goal for all Operators to have Sustainability Plans by 2030
Vienna, AT (December 15, 2022)
– TourRadar, the Adventure Booking Platform (ABP) with more than 50,000 organized adventures, today released its
Climate Action Plan
intending to have all its active operators have sustainability initiatives in place by 2030 and develop an impact measurement tool to simplify carbon measurement and reporting.
With more than 2,500 operators, all with different levels of sustainability initiatives, TourRadar realized an opportunity to create and nurture a community and ecosystem around shared values and goals, to define its main and most achievable purpose to bring the industry together to work collaboratively on solutions to the challenges of the climate crisis, and to raise awareness about sustainable travel in the organized adventure category.
"By leveraging our position at the center of the adventure booking platform ecosystem, we can educate and drive sustainability initiatives and rebuild travel in a better way," said Travis Pittman, CEO, TourRadar.
Currently, the organized adventure sector has no centralized, standardized hub or tool to measure and report on its CO2 emissions. The Impact Measurement Tool, which TourRadar aims to develop in collaboration with its partners, will provide a simple and centralized way of carbon measurement and reporting, allowing operators and industry supply chains to focus more energy and efforts on decarbonizing and mitigating the footprint of their adventures and operations. This tool will be available as an open-source solution in the TourRadar Operator Dashboard.
"As a signatory to the Glasgow Declaration, and with this ambitious plan in place, TourRadar is demonstrating the type of leadership we need; not simply focusing on its own climate impact, but on supporting the multiday tour sector to accelerate its journey towards Net Zero, through innovation and collaborative action. We look forward to supporting TourRadar's efforts and working together to achieve real impact," said Jeremy Sampson, CEO of The Travel Foundation and co-author of the Glasgow Declaration on Climate Action in Tourism.
Another key part of the sustainability plan is to support and encourage operators to run sustainably organized adventures. TourRadar will showcase how tour operators incorporate sustainability into their itineraries, allowing travelers to know the impact of their adventures. Travelers will be able to choose organized adventures operated by companies with initiatives to reduce carbon emissions and animal welfare guidelines in place. They will be able to choose tours led by locals or locally owned that support community development and environmental projects. The company has set a goal that by 2030, all active operators on the ABP will have sustainability initiatives in place.
TourRadar's ABP connects operators to travelers, travel advisors, and other partners through proprietary technology. Using tourradar.com, everyone in the ecosystem can search, learn, communicate, book, and manage travel online – seamlessly, simply, and securely. Bringing together 2,500+ operators and more than 1 million monthly travelers, TourRadar empowers people to go adventuring.
ABOUT US
TourRadar
is the world's first Adventure Booking Platform, where you can effortlessly book private, group, and tailor-made multi-day organized adventures from 160+ countries worldwide. Founded in 2010, TourRadar was the first to transition multi-day adventures to an online marketplace, making them the global leader in the industry today. In 2021, TourRadar further revolutionized the industry by introducing the Adventure Booking Platform, connecting travelers, operators, and travel agents to organized tours through one, easy-to-use platform.
CONTACTS
Lisa Verbeck
Head of Communications
lisa.verbeck@tourradar.com
Phone:
3102540039
www.tourradar.com