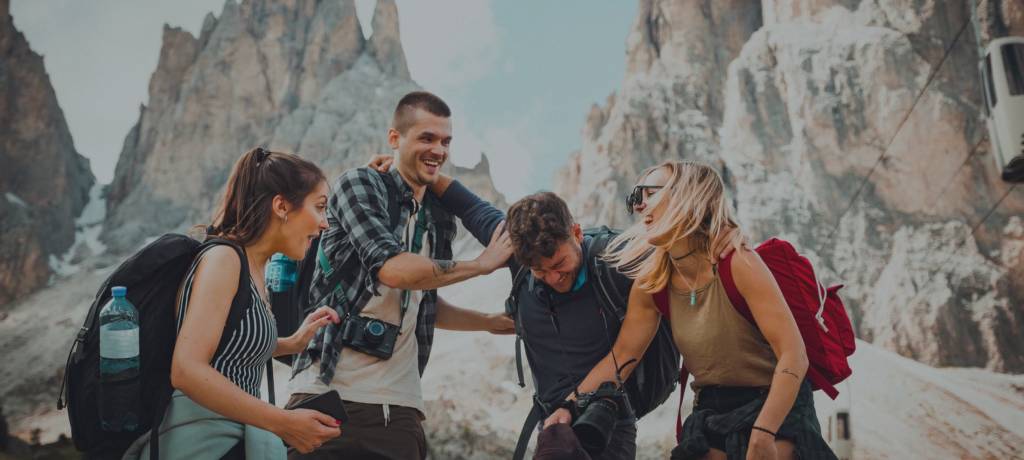 Tours & Trips for Young Adults
Whether your travel goals include partying in ruin bars or hitting up every beach in Asia, a group tour can make your wildest dreams come true! Join a group of like-minded travellers and indulge in unique, life-enriching experiences with experienced guides at your side. Eat your way through Vietnam, hike in Iceland, bike in China and discover places and experiences you never knew existed!
Over 250 Tours for Young Adults With 1,477 Reviews
Popular destinations for young adults
Travelling while you're young is a great idea: it broadens your horizons, introduces you to new people and ways of life, and provides life-enriching experiences you wouldn't have had otherwise. A visit to one of these top vacation spots for young adults is sure to leave you planning for your next adventure as soon as you get home!
Popular Europe adventures for young adults
There's so much to see and do in Europe! Check out some of the best Europe adventures for young adults to help you decide where to go.
Bucket list experiences before turning 30
If you're looking to cross some items off your bucket list before you turn 30, we have more than a couple of suggestions! Travel is the perfect way to check off those life-changing experiences.
Choose your next adventure
What better time to take on an adventure tour than when you're young? There are endless opportunities available every day!
Budget adventures for travellers in their 20s
Travel doesn't have to break the bank - here are just a few places you can travel in your 20s on a budget. 
Tips for young travellers
Don't overpack

Overpacking is one of the most common mistakes new travellers make. When packing, especially for a longer trip, thinking about everything you wear in one week, and be prepared to wear clothes more than once wherever possible. If you can do laundry on the road with a portable washing machine, you can significantly cut down on the clothes you need to bring!

Learn local words and phrases

The most important thing to remember while you're travelling is that you're a visitor in someone else's country, and, while you may be on vacation, they aren't. That means being respectful of public spaces, courteous to locals, and, where possible, showing that respect by learning a few basic words and phrases (hello, how are you, where is the bathroom?) in the local language. Believe us: you'll always gain points for trying!

Learn how to prepare one local recipe

One of the best parts of travelling is getting to experience new food! Learning a local recipe is the souvenir that keeps getting better: not only will you get to remember your time in that country, you'll get to share you travels with friends and family by showing off your delicious new skills. 
Festival & events you can't miss
FAQ
What is the average age of passengers travelling on these tours?

The average age can vary depending on the tour, however, most passengers are between 18-39. The majority of passengers are backpackers and university students who are going on vacation looking for a focus on nightlife and are happy to use budget multi-share hostels as accommodation. Find out more on TourRadar.

Do many people travel alone?

Small group tours are often very popular with people who travel alone or with their family and friends! If you are travelling alone do not worry as it is a great way to meet like-minded people who also love to travel. Discover more on our page about small group tours.

I am travelling with friends, can we share a room?

When staying in hotels, you will be able to share a room with your friends or partner. However if your tour includes stays in hostels, you will generally only be able to share a room with those of the same gender due to the rooms being multi-share. For more information please do not hesitate to contact our team of Travel Experts or read our page about single supplement.

Can you meet people before joining the tour?

Some tour operators provide a Facebook group or a platform where you can meet your fellow travellers. If your tour operator does not provide this service, then you can meet each other over a drink at your welcome meeting on Day 1 of your tour.

Do we get any free time on tours to do our own thing?

The majority of tours have a scheduled itinerary that includes activities, excursions and allocated free time. This allows plenty of time to see the sights as well as time to explore at your own pace. Otherwise, you can book a private tour.

Are the tours party focused?

Some tours are heavily party focused such as Oktoberfest. However, the majority of young adult tours allow you to see the sights by day, and relax or party by night.

Are there early morning starts?

Your days are usually planned out to allow more time at your tour destinations and less time actually travelling. Generally, most tours will depart your destination at around 9:00 am allowing plenty of time for you to have breakfast and hit the road!
Contact our Travel Experts
+1 844 311 8331
24/7 Support
Our team of experienced tour specialists have travelled to hundreds of countries around the globe and have decades of first-hand travel experience to share. Contact us now to have all of your tour-related questions answered!
Popular adventure operators for young adults
A TRAVEL MAGAZINE BY TOURRADAR